Open-Faced Chicken and Waffles
2Bleu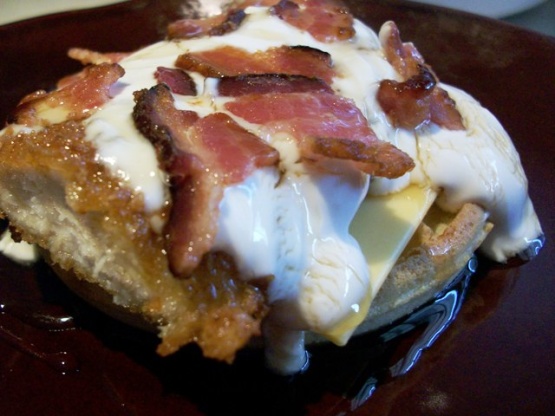 This quick and easy recipe is a unique treat to enjoy for any mealtime (breakfast, lunch, or supper).

I made this tonight for DH with a couple of small omissions. I left out the hot sauce and used plain bread crumbs (what I had). This was a shoe in, he loves Eggo's, chicken, bacon and maple syrup. It didn't take long at all to make and it was very much enjoyed.
SAUCE: In a small bowl, mix all sauce ingredients. Cover and place in the refrigerator until ready to use.
CHICKEN: To 3 bowls, place the following: Bowl 1 place flour, salt, and pepper. Bowl 2 mix egg and hot sauce. Bowl 3 mix panko and paprika.
Coat each breast in flour, then in egg mixture, then in panko mix. Lay flat onto a plate, cover loosely and set aside.
In a large skillet, fry bacon on med-high until cooked crisp. Remove bacon and place on paper towels. Reduce heat to medium and add the peanut oil in with the bacon grease still in the pan. (When bacon has cooled, crumble into bits).
(Now is a good time to put the waffles in the toaster). Fry the chicken about 1-2 minutes per side until the chicken is cooked through and golden. Remove chicken and drain on paper towels.
Remove waffle from toaster and place a slice of cheese onto each waffle. Top with chicken then spread the sauce over the chicken, Sprinkle with bacon bits and drizzle lightly with more maple syrup. Serve immediately.