Open Faced Braunschweiger Melts
Stacky5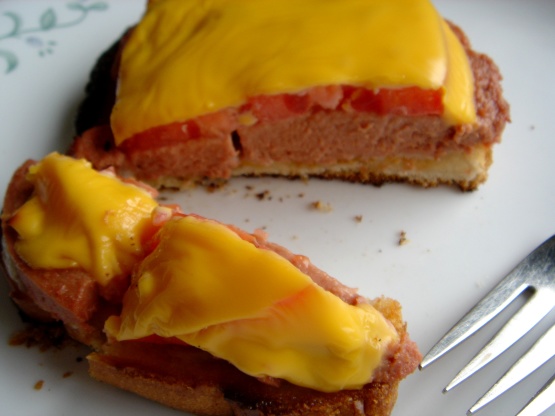 My Mom used to make these for us during tomato season in the summertime (way back in the 70's). Even though the combination of ingredients sounds weird, the flavors really blend well into an awesome taste sensation that I am totally addicted to, even after all these years. I LOVE this stuff! (Unbelievably quick and easy, too.) :)

I am the only one in my family who eats Braunschweiger since my Daddy passed away. I usually get some Boars Head at the Deli counter & only buy a few slices when I am in the mood for it. I had never tried it this way, and must say it was yummy. Even my picky DH who won't eat Braunschwieger said it looked good. The only change I made was to substitue Sharp Cheddar for the Velvetta. Thanks for posting.
2

slices bread (I like white, but my mother preferred sourdough)

2

slices braunschweiger liver sausage, sliced from the tube in 1/2-inch slices (I prefer Oscar Mayer)

2

slices tomatoes

2

slices Velveeta cheese

2

tablespoons Hellmann's mayonnaise
Toast bread slices, and put them on an ungreased baking sheet.
Spread 1 Tbsp mayonnaise on each toasted piece of bread.
Place 1 Braunschweiger slice over the mayonnaise.
Place 1 slice of tomato on top of Braunschweiger slices.
Place 1 slice of cheese on top of tomato.
Put baking sheet under a preheated broiler and broil until cheese gets bubbly (3-5 minutes).