Open-Faced Bacon and Hash Browns Omelet
Nimz1466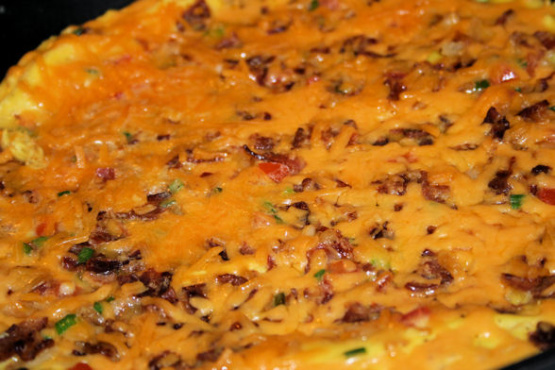 All amount can be adjusted to taste. You can use cooked potatoes, finely cubed in place of the hash browns, just make certain that the potatoes are cold before browning them. This is really good!

Fabulous Kitz. The combination worked so well for us. So easy to put together too. I left out the jalapeno pepper but used jalapeno hot sauce in place of the tabasco. There was no mention of where the butter went so I added a little butter to a little of the bacon grease and it worked well. I will definately be making this again. Thanks sweetie.
Cook the bacon in a large non-stick skillet until crisp; remove and reserve some of the bacon drippings.
To the same skillet at in the thawed hash browns, cook stirring with a wooden spoon until lightly browned and tender.
Add in the green onion, jalapeno pepper (if using) and tomatoes; cook for about 3-4 minutes.
Chop the bacon then sprinkle over the tomatoes and green onions.
In a bowl whisk together the eggs with cream, salt, pepper and hot sauce (if using) until well blended.
Pour over the hash brown mixture.
Gently lift the edges of the omelet and tilt the skillet so that the uncooked portion of eggs flows underneath.
Cook over medium heat until the omelet begins to slightly brown underneath; remove and sprinkle with grated cheese.
If desired you can place under the broiler for a couple of minutes to melt the cheese.
Slide the omelet onto a platter, then slice into wedges.