Open-Face Vegetable Sandwiches, Diabetic
Diana 2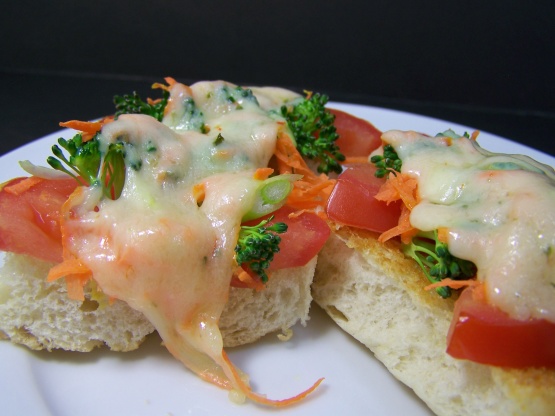 These are not only great tasting but are are diabetic and heart friendly. All around winners in my book. Using really small floweretts is vital in this recipe.

Mmmmm....loved this! I'm not usually a fan of dijon, but it really did make the sandwich. I did add a bit of thinly sliced onion. Wouldn't change a thing for next time. Thanks for posting this healthy, tasty, quick recipe.
Preheat broiler.
Spread mustard over the cut side of each English muffin half.
Arrange broccoli, bell pepper and carrot over mustard.
Sprinkle with cheese.
Place English muffin halves on the unheated rack of a broiler pan.
Broil about 4 inches from the heat for 2 to 3 minutes, or until cheese melts.