Opakapaka (Snapper) With Green Grapes
gemini08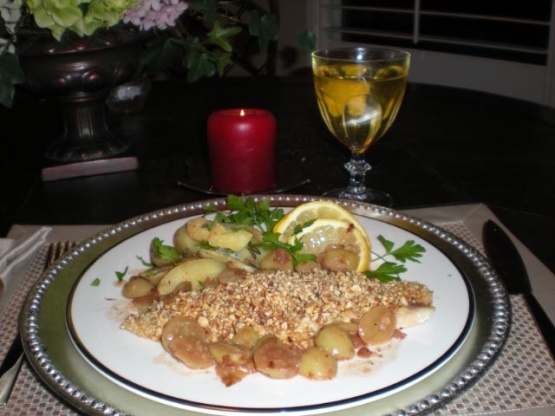 I found this recipe by restaurateur Bob Longhi and Chef Alex Mauricci, Longhi's Restaurant in Lahaina, Maui. I'm looking forward to trying it. Pink snapper is called opakapaka in Hawaii. Although the ingredients listed say red snapper, it really should be pink snapper, but I couldn't get that ingredient through.
Lightly flour fish on both sides.
In a sauté pan over medium heat, add 3 tablespoons butter and 1 tablespoon olive oil.
When butter foams, add fish to pan.
Sauté 3 to 4 minutes on one side and turn; continue cooking 3 to 4 minutes until done.
Remove fish from pan; pour out excess butter.
Deglaze pan with white wine and lemon juice; reduce liquid by half.
Add 3 tablespoons chunked butter; swirl into sauce.
Add more cold butter as needed until saucy.
Add grapes, then parsley, and pour the sauce over the fish.
Variations:.
You can vary the sauce by substituting almonds for the grapes. Simply toast 1/4 cup slivered almonds or chopped Macadamia nuts in a 350* oven for about 10 minutes. Add the nuts to the sauce before serving.