Oopah! Greek Potato Wedges
CoffeeB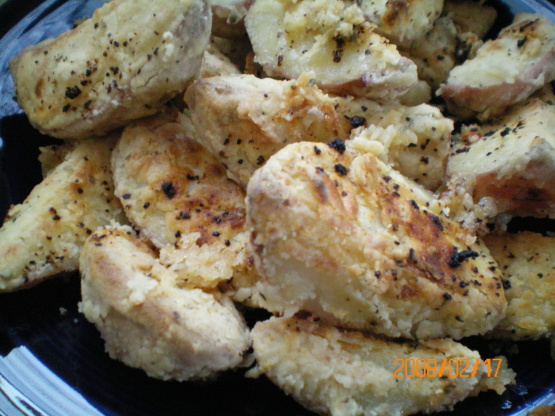 We love these with Greek Chicken or whatever else, for that matter!

These were just o.k. for us. The problem being that the flour breading was a bit much. I ended up having to broil for 5 minutes to brown them and make more crispy. Other than that I followed your recipe exactly. Added a t. of Greek seasoning to the flour mixture also. It was a nice side to the porkloin I made for sunday's dinner. Glad I tagged, thanks for sharing Mare~ Made for Feb. Cupids Bev. Tag 08.
Preheat oven to 375.
Melt butter and lemon juice in microwave bowl and drizzle small amount to cover bottom of baking dish. Reserve butter mixture.
Peel and quarter baking potatoes.
In plastic bag, combine flour, oregano, salt and black pepper.
One at a time, place potato wedges in remaining melted butter. Save remainder for possible use later.
Place 1 or 2 wedges at a time in flour bag and shake to coat.
Place potato wedges in baking pan and sprinkle lightly with lemon pepper.
Bake for 45 minutes and check for doneness. If potatoes are not as brown as you'd like, drizzle with a small amount of leftover lemon butter.
Bake until tender and brown.
Enjoy!