Oooey Gooey Chocolate Self Saucing Pudding
Sara 76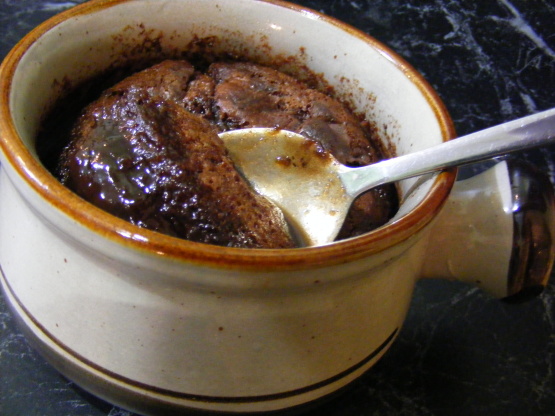 A reasonably low fat way to get that chocolate fix on a cold winter's night (especially if you serve with a low fat ice cream).

YUM! This is so delicious, my whole family loved it - especially my hubby & my 7 year old (the chocoholics of the family!). It is bitterly cold here at the moment, and this made the perfect warming comfort food for dessert tonight! It was simple and cheap (I already had ALL of the ingredients in my pantry), and a definate winner. I divided the mixture between 6 individual ceramic pots, and cooked them for around 20 minutes. Another amazing recipe, thanks Jan! [Made for Aus/NZ Recipe Swap]
Preheat the oven to 180 degrees Celsius Grease an ovenproof dish around 2 litres.
Sift flour, sugar and cocoa into a large mixing bowl.
Add combined milk butter and vanilla essence and stir until smooth. Pour mixture into baking dish.
Sift combined brown sugar and extra cocoa evenly over the top of the pudding mix.
Gently pour the water over the pudding, using a spoon to break the flow.
Transfer to oven and bake for approx 50mins.
Serve hot from the oven, dusted with icing sugar, ice cream and or cream.