Ms B.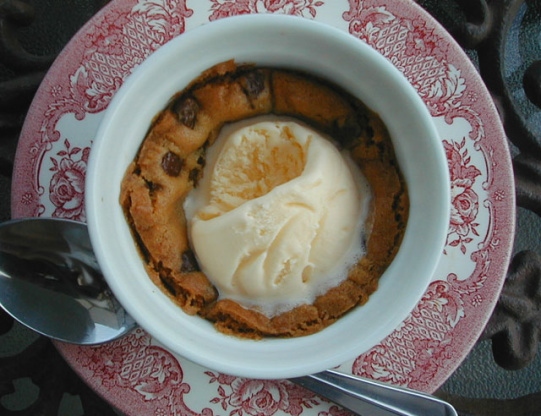 This recipe came from a friend who had these once in a restaurant... I don't remember which restaurant or even what the REAL name of the dessert is, but these are so easy and so delicious that everyone I share them with is embarrassed they haven't thought of this before! Couples love these because they can make just enough dessert for themselves, and families love them because the kids can help out. And, really... who doesn't love cookie dough?

This is our family's favorite "go-to" dessert. It's easy, fast, and yummy!
Set oven to 350°F.
Put about 2-3 tablespoons of cookie dough into a small oven-safe souffle dish and and form a 1/4 inch"shell" or"crust" in the dish.
Bake at 350°F until cookie dough JUST begins to cook, about 4 minutes.
Immediately top with one scoop of vanilla ice cream, pushing the ice cream into the cookie dough so the ice cream begins to melt.
Serve and eat immediately out of dish!
(Caution: souffle cup will still be hot, be sure to use a hot pad or cloth napkin).