loof751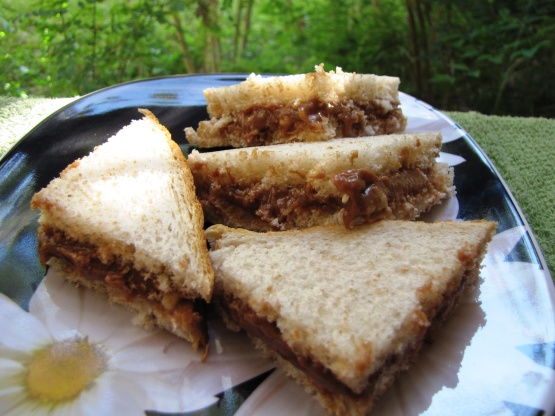 The name says it all. And the thicker you spread the mixture the more ooey and gooey it gets, which is my own personal preference. This makes for a nice picnic or in my case a potluck in which everyone enjoyed. The spread doesn't have to be eaten all at once, so refrigerate whatever is leftover or want for later on.

OoeyGooey is right! This yummy sandwich is like a banana split on bread! I didn't add the Splenda - it was plenty sweet as is. I didn't add the optional tomatoes but will try them next time. I scaled this down to 1 serving and enjoyed a rich and sweet breakfast - thanks for sharing your recipe! Made for the Sweet Traditions event, 2009
In a medium bowl mix everything, except the bread and tomatoes together.
Spread generously over one slice of bread and top it with a second slice of bread to make a sandwich.