Junebug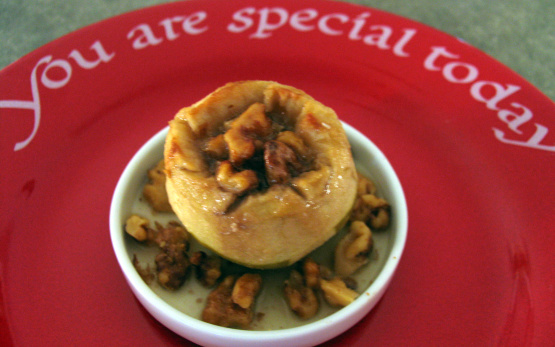 You can serve the baked apples warm from the oven, or cold, or reheated. They are nice as a side dish along side a pork roast. Try these any time, they are delicious!

This was very easy to assemble and just stick in the oven. It also uses ingredients I always have. My apple was on the tart side, so it wasn't very sweet, but I enjoyed the contrast of the maple syrup with the tartness of the apple. So if you want it sweet you need to use a sweeter apple and you might want to sprinkle some brown sugar on it. I also thought it would be good with a bit of cinnamon. My apples were small and it took them one hour to bake and I basted them twice. Thanks for sharing your recipe Dancer!
With a vegetable peeler, remove the peel from the top third of the apple.
With a zester/stripper, make a decoration down the sides of the remaining skin on the apples.
With an apple corer, remove the core of the apple, being careful not to go through the bottom, it should be like a container.
Place the apples in a baking dish.
Fill the center of each apple with walnuts, raisins, and maple syrup.
Put a generous teaspoon of butter on each apple.
Pour a layer of water in the bottom of the baking dish to about 1/2 inch.
Bake in a 350 degree oven for 1 1/2 hours, basting from time to time with the liquid in the bottom of the pan.
Add water to the pan to keep it moist.