ImPat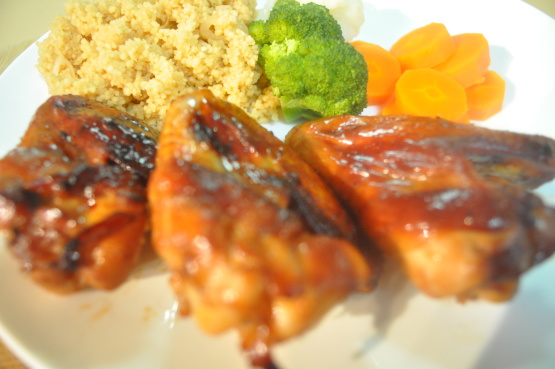 I got this recipe from a friend in Hawaii. Ono means good in Hawaiian and these are very good. Make sure that they marinate over night to let the flavors develop.

Top Review by ImPat
Ono these are good though I didn't cook them quite as per recipe, I transferred them from the marinade to a bakiing dish and poured !/2 cup of the marinade over the wings and baked them in a 175C (fan forced oven for 45 to 50 minutes), the result was beautifully crispy tender wings that tasted absolutely delicious. Would also suggest you could cook up the left over marinade and serve as a dippy sauce or if serving wings as a meal (as I did and I only cut of the tips and left the rest to bake in the marinade) you could then serve the sauce over your rice and/or vegetables (I served recipe #276891 and some steamed vegetables). Thank youlazyme for a wonderful flavoursome chicken wing recipe, made for Went To Market tag game.
Cut off and discard the small tip of each wing.
Cut main wing at joint.
Combine first 8 ingredients and stir until dissolved.
Pour over chicken and marinate overnight.
Be sure sauce covers all pieces.
Drain and save marinade.
In large skillet, heat a small amount of oil and brown chicken on all sides over medium.
When brown, add 1/2 cup marinade; cover; reduce heat and simmer 15-20 minutes.
Stir and add more marinade if necessary.