chieming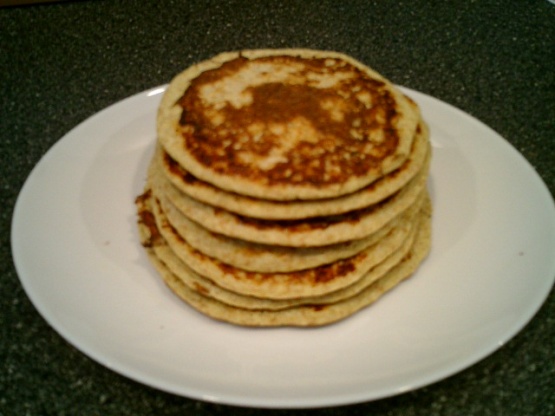 This is my BF's pancake recipe for his diet. It came from a book by a French nutritionist Docteur Pierre Dukan, but the proportions have been tweaked a little to suit his taste. They're surprisingly yummy and have helped me lower my blood pressure!

These are SO good! I'm re-writing my previous review because I made a couples of changes that made them even better! I used 1/3 cup Eggbeaters, oat flour for the wheat bran, 1/4 tsp baking powder, unsweetened applesauce for the yogurt (didn't have any!) & added a good teaspoon of cinnamon & a little Splenda. I spread the tops with a small amount of natural peanut butter, sliced bananas & sugar free maple syrup. They taste decadent yet are healthy & filling. Thanks again for sharing!
Mix all ingredients in a bowl, and stir until well blended (I like to add a little baking soda to make the pancakes fluffier).
Cook pancakes as you'd normally do!
What we usually do:.
Coat a nonstick skillet with a little bit of oil using a paper towel.
Keep the pan on mid-low heat.
Pour a ladle of batter into pan.
Cook one side until the edges start to seem done.
Flip and cook the other side.