Rita1652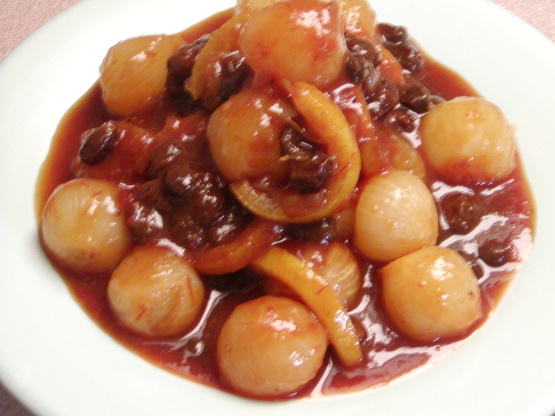 The way the French cook their onions!

This was very interesting! First I plunged my pearl onions in boiling water for 1 minute then into cold to make peeling easier. I used chili sauce which is made from paste and spices in place of the tomato paste. I simmered the onions for 20-30 minutes. This is full of flavor. Sweet & Tangy! Thanks Sharon!
Put onions in skillet with wine, vinegar, salt, pepper, and lemon slices.
Simmer until onions are just tender but still crisp in the center.
Stir in tomato paste and raisins and cook for several minutes.
Remove the onions to a dish.
Let the juices cook down with the raisins until the liquid is almost a glaze.
Pour over the onions and chill.
Serve as an hors-d'oeuvre or with cold meat.
Makes 8 to 12 servings.