Onions Baked in Their Papers
Rita1652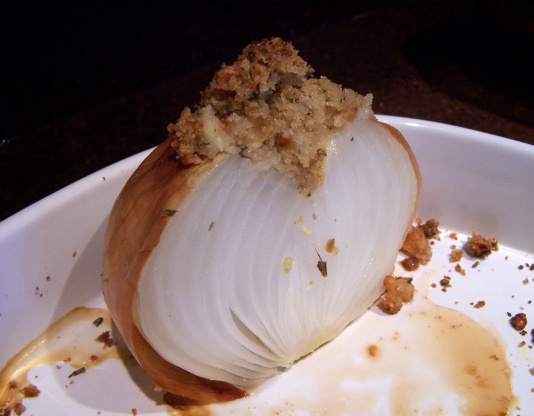 If you like onions, great side dish! Low-carb magic

Just love this recipe. I used 1 large Vidalia onion cutting the rest of the ingredients back. I made the mistake of not making the whole(cone) big enough to fill with the filling goodness. I also skipped the sugar and no garnish just couldn`t wait to bite into this sweet onion that was still slightly crunchy but well cooked. Thanks for the goodness!
Preheat oven to 400 degrees.
Line square baking pan with aluminum foil, set aside.
Slice off stem and root ends of onions.
Cut 1 1/2 x 1 1/2 inch cone shaped indentation in the top of each onion with paring knife.
Set onions in prepared pan on root ends.
Stir herbs, sugar, salt and red pepper into melted butter.
Add bred crumbs, mix until blended.
Spoon equal amounts of crumb mixture into indentations.
Bake about 1 hour or until fork tender.
Garnish, as suggested, if desired.
Serve immediately.