Onion Topped Beer Burgers
Boomette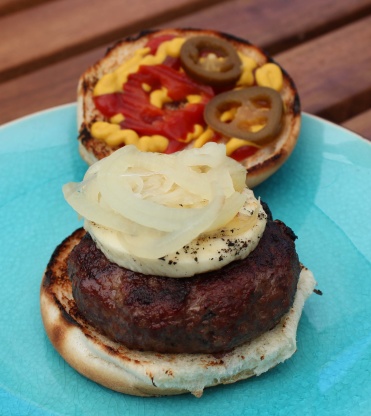 Another burger recipe. I really like the cooked onions on top of these burgers. I'm ready for summer when I think of these burgers....mmmmmm.
Heat grill.
In medium bowl, combine ground beef, bread crumbs, 1/4 cup beer and soup mix; mix well.
Shape into 4 patties, 1/2 inch thick.
Place sliced onion, 2 T. beer, salt and pepper in foil grilling bag or foil packet.
When ready to grill, place patties and grilling bag on grill.
Cook 11 to 13 or until patties are thoroughly cooked, turning patties once and turning grilling bag frequently.
To toast buns, place cut side down on grill during last 1 to 2 minutes of cooking time.
Place patties on bottom halves of buns.
Top with onions.