Parsley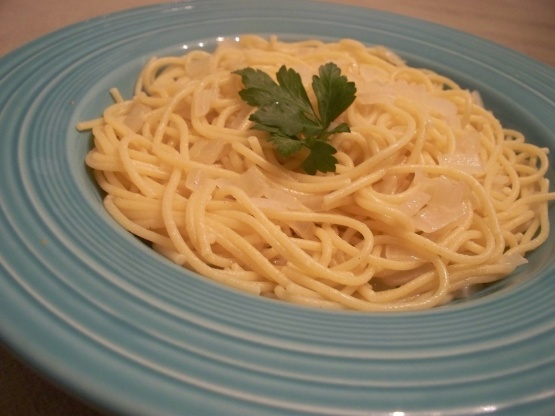 A very - very simple way to make spaghetti! Its a real Italian recipe and I must say that althought its seems simpe its so tasty!With a green salad we are having a super easy dinner!!!

This was interesting. I used vidalia onions and added some chives for color. I found it to be quite sweet, probably a result of the vidalias. I served it over tri-colored fettuchini which really made a pretty plate! I'll try it again using regular onions. Thanks for an easy and tasty recipe.
Boil, in a large pot enough water and then add the spaghetti.Season with enough salt.Cook for 8-10 minutes.
Cut onions in small pieces.
Drain the spaghetti and heat the olive oil in the pot.Cook until onion is soft (2-3 minutes).
Add the spaghetti and mix well. Season with white pepper.