Onion-Smothered Steak (Bife a Cebolada)
Rita1652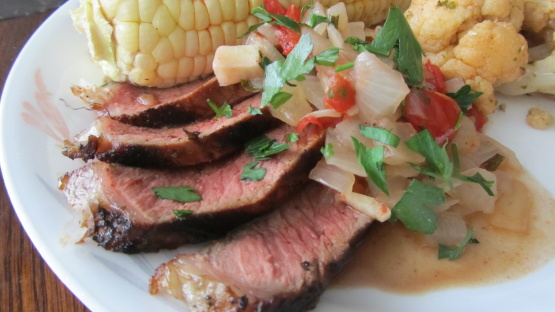 This Portuguese smothered steak recipe is adapted from the Williams - Sonoma Savoring Spain & Portugal cookbook. Traditionally fried potatoes are served with this dish. Note - the time shown does not include one hour of marinating time.

This was delicious! The tomato/onion sauce was fabulous served over the steaks. I served it with roasted potatoes, and the sauce went well those, too. Thank you for sharing your recipe, PanNan. Made for ZWT8 ~ Spain/Portugal.
In a small bowl, or mortar and pestle, combine 1 tbsp vinegar, 1 tsp garlic, paprika, and 1/2 tsp each salt and pepper. Mix to form a paste. Rub the paste on both sides of the steaks and set aside at room temperature to marinate for 1 hour.
Warm the olive oil in a frying pan over medium heat. Add the onion and cook, stirring often, until golden (about 25 min). Add remaining tsp garlic, the tomato, the remaining vinegar, and the bay leaf and port and simmer, uncovered, over medium heat for 10 minutes. Season with salt and pepper to taste and stir in the parsley. Remove from heat and set aside.
Place 2 large heavy frying pans over high heat and sprinkle them both with salt. When the pans are very hot, add the steaks and cook over high heat, turning once, 3 - 5 minutes on each side for rare, or until desired doneness. Add the onion sauce and heat through, turning the steaks in the sauce to coat.
Serve the steaks on a warm plate or platter and spoon the sauce on top.