gailanng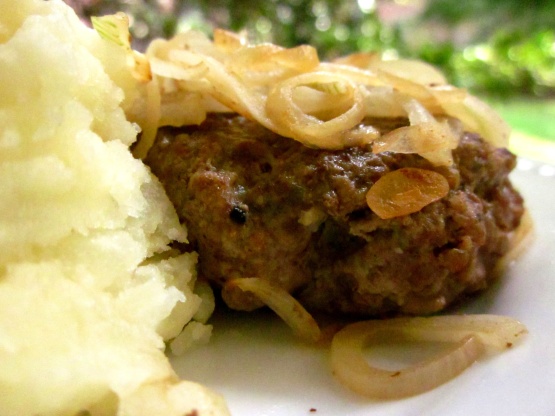 A stick-to-your-ribs recipe made with ground beef patties, tender onions and a rich gravy on top of toasted bread to make this Depression-era favorite.

Great dish!!!!!!!!!! I served with mashed potatoes and cabbage. Easy and I had everything on hand. I was a bit confused by another viewer about the steak tasting like hamburger. It should taste like hamburger because it's made with ground beef. another name for this is Hamburger Steak. Made for I Recommend.
In a large bowl, combine the ground beef, salt and pepper; shape into four oval patties. In a large skillet, brown patties on one side. Turn and add onions. Cook until meat is no longer pink.
Place toast on serving plates. Top each with onions and a beef patty; keep warm.
Stir flour into skillet until blended. Gradually add water; stir in bouillon. Bring to a boil; cook and stir for 2 minutes or until thickened and bubbly. Serve with meat and onions.