-Sylvie-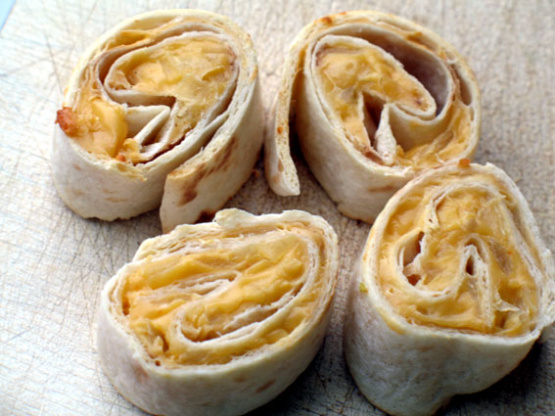 These are really easy appetizers that you can make a few days in advance, and bake them the day they are needed. I am not a fan of onions, but these are delicious.

I am rating this recipe again because the first time I forgot to put the stars on it ( and it deserves AT Least 5 stars)! I made this, along with other appetizers for Christmas Day. My DH and SIL are huge onion fans which is why I decided to try them. They were delicious! I was debating whether to make the whole recipe or halve it because of all the other food we were having but I figured I could always warm up any leftover later. There were none left! Thank you leilani for a great appetizer recipe! They were so easy to make. BTW-my sil asked me for the recipe-several times-until I finally got it to her.
Chop onions.
Place in frying pan with butter.
Fry for 20 minutes or until onions are limp.
Stir in cream cheese and grated swiss cheese.
Stir until melts.
Spread on tortillas.
Roll and refrigerate overnight.
To cook: Grease baking sheet.
Cut into 1" pieces.
Bake, upright, at 375 degrees for 10 minutes or until lightly brown.