Geema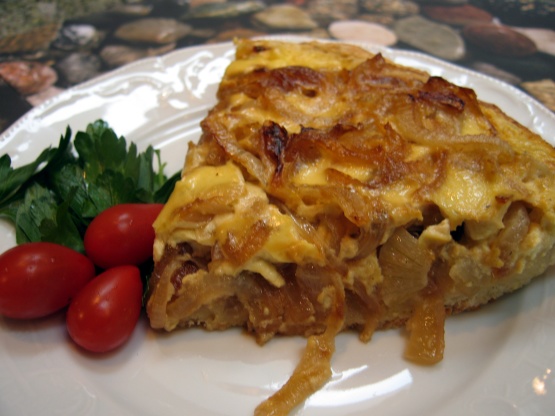 This is from TOH. I haven't tried it yet, but I am typing it up for ZWT II. This is a classic Alsace regional dish.

Top Review by Geema
Both my DH and I loved every delicious bite of this onion pie. I made two slight changes to this recipe, using whole milk instead of 1/2 and 1/2 which turned out just fine. And I also added a spoonful of Dijon mustard since that's my husband's favorite condiment and practically guarantees a great review. When I make it again, I will be careful not to make the biscuit crust quite as thick, maybe rolling it out instead of patting it in place. All in all a very delicious recipe.
In a bowl, combine the biscuit mix, sage and salt. Add enough milk until mixture holds together. Press into the bottom and sides of a 9 inch pie plate; set aside.
In a large skillet, sauté onions in oil until tender. Sprinkle with salt. Spoon into crust.
In a bowl, beat egg and cream; pour over onions.
Bake, uncovered, at 375 for 15 minutes. Reduce heat to 325 and bake 25-30 minutes longer or until a knife inserted near the center comes out clean.