Onion, Leek and Mushroom Soup (Diabetic Friendly)
Debbwl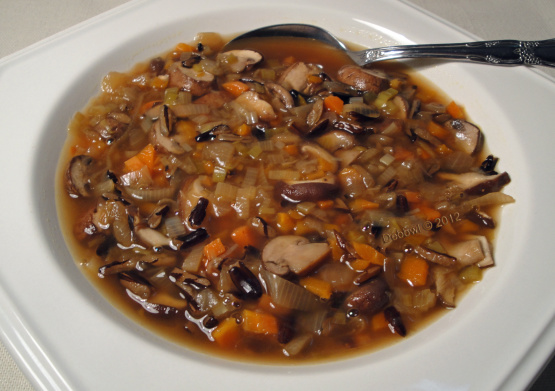 This hearty soup combines the natural sweetness of caramelized onions with leek and mushrooms. The nutty flavor of wild rice adds something special. You can use brown rice if you prefer. This can be vegetarian by using veggie broth in place of the ask for meat broth. A food processor will make short work of the chopping.
In a large saucepan heat olive oil over medium-low heat. Cook onion and leeks in hot oil, covered, for 13 to 15 minutes or until onions and leeks are tender, stirring occasionally. Uncover; stir in brown sugar. Cook and stir over medium-high heat for 4 to 5 minutes more or until onions and leeks are golden brown.
Stir mushrooms and carrots into onion mixture. Cook and stir over medium heat about 3 minutes or until mushrooms are tender. Stir in chicken broth, the 1-3/4 cups beef broth, cooked rice, sherry (if desired), and pepper.
In a screw-top jar combine the 1/2 cup cold water and flour. Cover and shake until smooth; stir into the soup mixture. Cook and stir until slightly thickened and bubbly. Cook and stir for 1 minute more. Makes four 1-3/4-cup servings.