Rita1652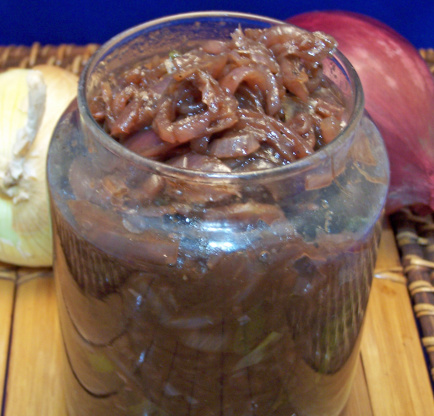 A really yummy and different dish to WOW your guests. It does use a lot of balsamic vinegar. You can use the best you can afford but I have found it comes out equally well with the 'bargain' balsamic! Created by Texas chef Grady Spears and featured in the November 1998 issue of Texas Monthly.

Wonderful relish. My supermarket had this "bargain" balsamic vinegar and I am glad the chef said that would be OK too. It is easy to make, the only tedious thing is to slice all the onions. But- it is worth the time and effort. I used about 1/2 teaspoon kosher salt, 4 turns on the pepper mill and a pinch of red pepper flakes. Also I used a little more than 1/4 cup brown sugar. So far I have had it with chicken, on a cheese sandwich and I plan to mix in a little with the tuna salad I am making tomorrow. It is very versatile. Thanks for posting.
Peel the onions and cut off the ends, then stand each onion on its bottom and slice it through the center, top to bottom.
Continue slicing to produce thin, semicircular julienne strips, then cut those into pieces 2 or 3 inches long.
Cut the scallions into pieces 2 or 3 inches long.
Heat the oil in a large skillet over medium heat.
Add the onions and scallions and sauté until they begin to soften; cover the pan, lower the heat, and cook until they are wilted, about 20 to 30 minutes.
Remove the lid, increase the heat, and add the vinegar.
Cook over medium heat, stirring occasionally, until the vinegar is reduced by half.
Stir in the salt and pepper, then gradually add the brown sugar, tasting as you go.
Onions have different amounts of natural sugar at different times of the year, so the amount of brown sugar may need to be adjusted. The final flavor should be strongly sweet-and-sour.
Continue cooking the mixture until the jam is thick, about 10 minutes.
Remove from heat and cool to room temperature.