Onion Herb Focaccia Bread
Peter J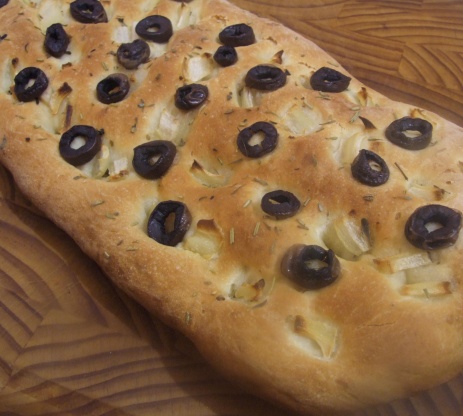 So yummy and good! We tried this recipe a week ago and as soon as it was gone we made it again! Can make into great breadsticks to accompany an Italian meal. The recipe makes two flat loaves and you just cut them into strips. Another great recipe by the Micheff sister Brenda Walsh. As an option she sometimes adds sliced Greek olives, but I haven't tried it that way yet.

Mmmm this was good! I went with olives on top and only change I made was to use a regular onion rather than a red onion because of what I had on hand. I'm probably about the world's worst baker but by following the directions exactly ended up with a result as good if not better than anything I've had from a bakery. I could also see it being a versatile recipe that would great topped with parmesan, sundried tomatoes and the like.
Sprinkle yeast into 1 cup warm water and stir with fork to dissolve. Let sit for five minutes. Mix flour, sugar and salt in a large mixing bowl. Make a well in the center and pour in the dissolved yeast and the oil.
Mix in the flour a little at a time. Add the additional 1/4 cup water one tablespoon at a time, to form a soft sticky dough. Add more water, one tablespoon at a time only if needed. Dough should not be dry.
Turn dough out onto a lightly floured work surface. Knead until smooth and elastic, approximately 10 minutes.
Brush top of dough with olive oil and cover with a dish towel. Let rise until doubled in size, about 30-40 minutes. Punch down and divide the dough into two pieces. Place on cookie sheet and stretch dough into rectangular shape approx 6x12 inches each.
Let rise again until double, approximately 30 minutes, then use finger tips to gently press into the surface of the dough to form "dimples" about 1/2 inch deep. Brush with olive oil and sprinkle with herbs and onion slivers.
Bake in preheated 350°F oven for 25-30 minutes or until golden. Serve hot or room temperature.