Onion Herb Bread (Bread Machine)
chia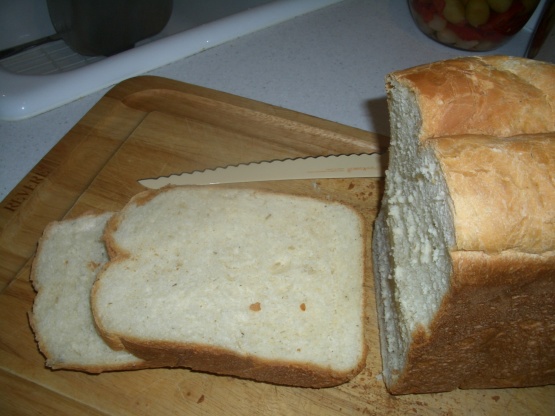 A savory bread to serve with a hearty soup or stew, made in ABM. Vary herbs to your taste. Cook time depends on your machine. Thekneading can be done in the machine, and then the rise and shape cycles done by hand, to make rolls. One reviewer said rolls baked at 400 for 15 minutes.

Made for your Football Pool win, you cannot go wrong w/homemade bread around our house & onion bread is a much-favored choice. Like other reviewers, I "made it my own" by using 1 cup whole wheat flour, caraway seed vs fennel & an unmeasured amt of extra garlic. The aroma got our immediate attention, so it didn't get the full amt of "rest time". It was way too good still warm w/butter & made great toast the next morning. My much-belated congrats on your Football Pool win & thx for posting this yummy recipe. :-).
Place all ingredients in machine in manufacturer's recommended order.
Set on medium crust or white bread setting.
When done, remove from pan and cool on wire rack 30 minutes.
Slice and serve with butter.