ImPat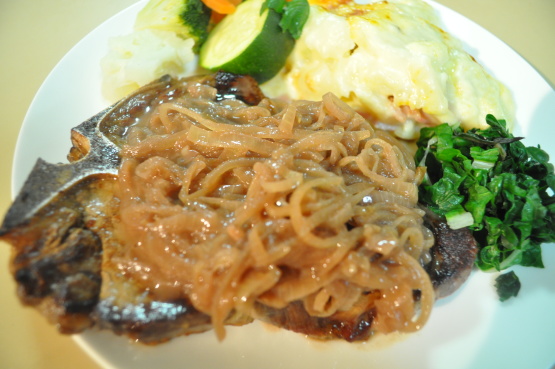 The long slow cooking of this recipe is what really makes it special and gives it a deep and rich flavour beautiful colour.

Top Review by ImPat
This is better than any restaurant onion gravy I have had, yes you could and see onion (o'kay if you did not want to see onion strain and you have a jus that is to kill for). When I added the stocK, wine, mustard (dijon) and worcestershire I bought it to the boil for a minute or two to boil of the alcohol and then turned down to a simmer for 20 minutes and a perfect onion sauce with heaps of flavour. I did have to use 3 large brown onions and then realized I did not have a red one but did have a large red shallot so added than but anyway the result was delicious served over a t/bone steak for me and saugaes for the DS and DM (if I served the DH I think he would thrown a hatchet at me with his intolerance to onion). Thank you Terese, made for Recipe Swap 41, June 2010 Aussie/Kwi forum.
Melt the butter in a heavy pan and cook the onions for about 20 minutes, stirring frequently until soft. Turn the heat down low, do not cover the pan and cook until the onions are brown, this should take about 1 hour so don't try and rush it.
Add the stock, red wine, Worcestershire sauce and mustard.
Bring the gravy to the simmer and reduce slightly, stir frequently, check the seasoning and serve.