A-L6716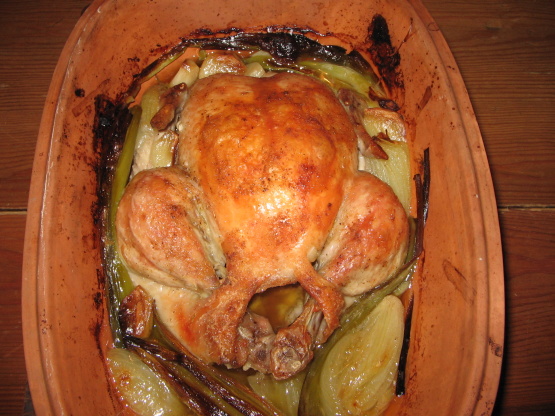 This is something I threw together for dinner one night when I wanted something simple that didn´t take a lot of work. The chicken turned out very juicy with a distinct onion flavor, so if onions aren´t your thing, you can substitute them for other veggies such as carrots and other firm vegetables. The amount of salt in this recipe might sound like a lot, and you can add less if you like, but the clay pot absorbs a lot of it, so keep this in mind. Do not preheat the oven or the clay pot could crack. This recipe is for an unglazed claypot.

Well, it's time someone tried this. I did and I'm glad I did! REALLY tasty! The only thing different I will do next time is just take all the skin off the chicken. This makes so much liquid, I'm not worried that it will dry out. It's just too much chicken grease for our liking. I could also drain all the liquid and cool it down and take the chicken fat off the top. But the flavor of this dish is truly great!!
Rinse the claypot and lid in cold water. (If it´s the first time you´re using it, let both lid and bottom soak for 15 minutes in cold water.).
Peel, rinse and cut the onions into quarters, the leek and spring onions into 4 pieces, and leave the peeled garlic cloves whole.
Rub the chicken inside and out with salt, pepper, garlic powder and paprika powder.
Put the chicken in the claypot breast side up, and surround with, leeks, onions and garlic cloves.
Put the butter in small clicks over the chicken and veggies.
Cover with the lid and put the pot on a rack far down in a cold oven.
Turn on oven and bake at 225 degrees celsius for about 1 and 1/2 hours removing the lid for the last 15 minutes to brown. (Check to make sure the chicken is cooked through since ovens vary).
Place the pot on a wooden cutting board or something like that, not on any cold surface or it could crack, replace the lid and let rest for about 10 more minutes before serving.