This is really quick and easy! You can keep all the ingredients on hand and whip it up if company is coming.
Directions
With a hand mixer, mix all of the ingredients.
Refrigerate for at least 2 hours to flavor through.
Serve with chips or raw veggies.
Reviews
Most Helpful
Oh my goodness, this is SO good!! We've literally dipped everything in it; cheese straws, vegetables, crackers... my fiancé even wanted it in his sandwiches today! Love how easy this recipe is and it tastes amazing!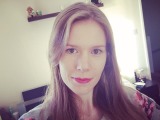 I've made the regular onion soup dip a million times and thought it was the best. I was wrong this was better. I only used one package of light cream cheese and ate some before it was refrigerated and some after, it was good both times. I also crushed the onion as much as possible while it was still in the envelope because my Dh doesn't like the pieces of onion. We will make this again. YUM.

The addition of the cream cheese really improves a dip that is pretty perfect to begin with!
Holiday Central >