Parsley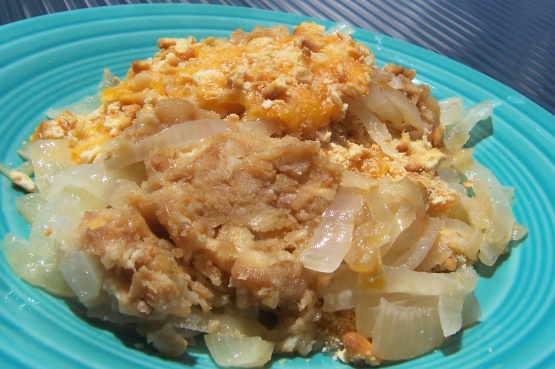 Onions are one thing I liked anyway you can fix them and this is an excellent side dish.

I can hardly believe a dish this simple can taste so decadent! Like Parsley stated in her review, I added a little Swiss in with the cheddar cheese, and dribbled a little milk over it too. This was a nice "something different" addition to our Easter buffet yesterday. YUM!
Cook onions in 2 Tablespoons butter in skillet until onions are soft but not brown, 6-8 minutes.
Crush crackers (4 oz. is equal to one 1 sleeve).
Add 1 tablespoon butter, 3 tablespoons milk and ½ cup cracker crumbs on bottom.
Add onions and then cheese and crumbs on top. Bake 20 to 30 minutes at 350°F, uncovered.
Note: I put a few drops of milk on top of crackers before I put them in oven.