Onion Burgers by John T. Edge - the Longmeadow Farm
Shelby Jo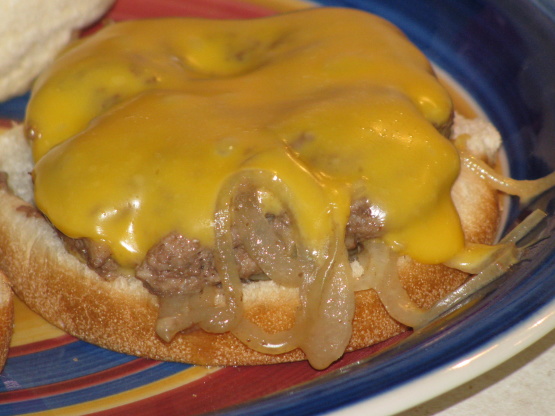 John T. Edge, Burgers: An American Story, Putnam 2005- Adapted from this wonderful story teller, perfect for picnic or nice luncheon burger. Normally we serve this with a big bowl of pass around potato chips, ice cold pickles, and a large wedge of fresh tomato. Soft buns are best, but toast works equally as well.

I've made these three times already. Needless to say, but we loved them. Usually my hamburges come out to thick, but not these. The first time I used ground sirloin, to dry and the onions didn't have enough oil. The second time I used ground chuck, that was better, but the meat was cold and kept sticking to the spatula. The third time I let the meat warm up on the counter a little bit and I had no problem with it sticking and they did not fall apart. We toasted the buns and used hand shredded cheddar. fresh sliced tomato and romaine lettuce and it was perfect.
1

lb ground chuck

2

onions, shaved (use a mandoline or a very sharp knife to make the thinnest possible slices)

2

tablespoons pimento cheese (or Cheddar, American, Provolone cheese)

6

buns, split
Place a heavy skillet over medium-high heat. Leave it there for 5 minutes.
Loosely gather a handful of ground beef (free form) and slip it into the pan. (Can make 4 or 6 patties depending on size).
With the side of a spatula, push the burgers into a semblance of a round.
After about a minute, pile on all the onions and then, with as much force as you can manage, smash the onions into the meat.
Cook another minute and then flip. Season with salt. Smash the burgers again, hard.
Place burger on bottom half of the bun and spread with mustard.
Spread the cheese on top half of the bun and place on the burger.
Serve with a large tomato on the side, and nice fresh chips. Yummy!