Linajjac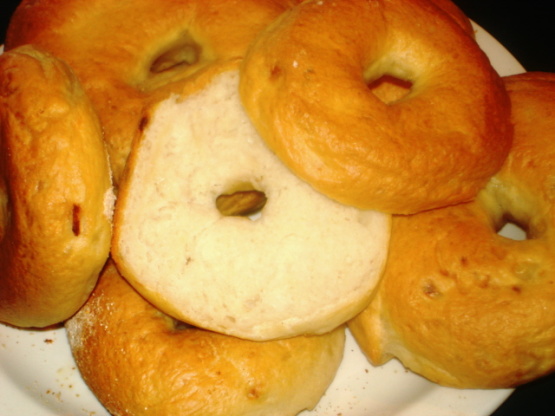 My family loves onion bagels, but they are expensive to buy for as many as they would eat, so I found this recipe online.

I made half a batch and made 8 bagels, I like em a little smaller. Also, half wheat, half white. They turned out a little heavy, but that could be due to the wheat flour and/or the high altitude here. Defiantly has a nice flavor and I'll be using this recipe again.
Combine warm water, yeast and 3 tablespoons sugar. Let stand 5 minutes or until foamy. Stir in salt and onion.
Gradually mix in 4 cups of flour, beat on medium speed for 5 minutes. Add enough of remaining flour to make a stiff dough. Turn onto floured board and knead until smooth and no longre sticky (about 15 minutes), or knead in heavy-duty mixer for 2 minutes, adding more flour as needed.
Place in greased bowl, turning to coat all sides. Cover; let rise until doubled in size (about 40 minutes).
Knead dough lightly and divide into 12 equal pieces. To shape, knead each piece, forming it into a smooth ballHolding ball with both hands,poke your thumbs through the center. With one thumb in hole, work around the perimiter, shaping like a doughnut 3-3 1/2 inches across.
Place shaped bagel on lightly floured board, cover lightly and let stand in a warm place for 20 minutes.
Bring 3 quarts of water and remaining 1 tablespoon of sugar to boiling in a large kettle (like a dutch oven). Adjust heat to keep it gently boiling.
Lightly grease a baking sheet and sprinle with cornmeal. Heat oven to 400 degrees.
Gently lift one bagel at a time and drop into water, boiling 4-5 at a time (depending on the size of your pot). Boil for 5 minutes, turning often.
Lift out with a slotted spoon, drain breifly on a towel and then place on prepared baking sheet. Repeat until all bagels are boiled.
Combine egg yolk with 1 tablespoon water and brush on top of bagels.
Bake for 35-40 minutes, or until well browned and crusty. Cool on rack.
**I like to have smaller bagels, so I divide my dough into 16 pieces and bake for 30-35 minutes.