Onion and Yogurt Spaghetti
Bellinda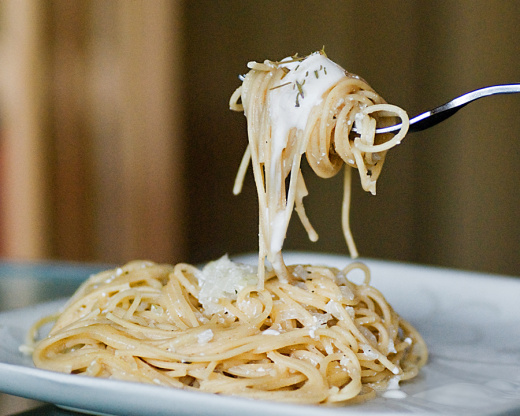 I copied and adjusted this recipe from a cookbook a long time ago. I make it every now and then when I get cravings for it and the kids love it as well. You can adjust the ingredients to your liking. I myself never measure anyway. You can use wide egg noodles, spaghetti or linguine.

What a great recipe. My whole family loved this (DH&DS) tasted way better than any bechemel sauce I ever had. Nice and light and creamy. I always have lots of yogurt on hand. I made it into a one dish meal by topping it with chicken tenders, peas,spinach and seasonings. I did use penne instead because it's easier for my son to eat and the sauce stuck to it nicely.Thanks it's definately a keeper.Made for PAC Fall 09.
Prepare pasta according to package directions.
In skillet heat 4 Tbs of the butter over medium heat. Once it sizzles add onions. Salt and sauté, stirring continually, until onion begins to brown.
Add garlic and continue cooking for 3-4 minutes.
Remove from heat, add remaining butter. Let it melt.
In a serving bowl toss the drained Spaghetti with the yogurt, then add onion and garlic mixture and black pepper.
At this point you could add chopped up fresh herbs.
Depending on how you like it, you could add more yogurt.
Serve immediately!