Onion and Mushroom Smothered Super Swiss Turkey Burgers
KathyP53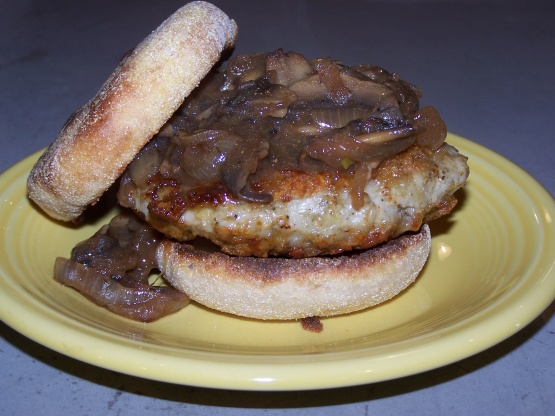 A Rachael Ray recipe I tried last night. Really good! Onion and mushroom sauce was to die for. Would be great with steaks too.

Wonderful burger patties with a gourmet flavor and presentation. The "smothering" of the onions and mushrooms was a great technique to bring out the full flavor. Also the addition of the swiss cheese cubes to the turkey patties ia a great way to keep the turkey from getting too dry while cooking. Instead of serving this on a bun, I served it over rice to soak up all the great sauce.
Preheat large skillet over medium-high heat with the 2 tablespoons olive oil.
Add onions ans season with salt and pepper.
Cover pan with foil and set a lid or plate on top to smother onions, for 5 minutes.
Add mushrooms to the onions and smother them for another 5 minutes, stirring occasionally.
Uncover pan and let juices cook off a little. Sprinkle with the flour.
Cook for 1 minute; add wine and chicken broth and cook sauce until nice and thick, about 2 minutes.
Combine ground turkey, cheese, salt and pepper, poultry seasoning, and cayenne pepper in a medium bowl.
Score the meat with the side of your hand to separate it into 4 equal amounts.
Form the mixture into 4 large patties no more than 1" thick.
Drizzle the patties liberally with olive oil.
Preheat a large nonstick skillet over medium-high heat.
Once the skillet is hot, add the patties and cook them for 5-6 minutes on each side, or until turkey is cooked through.
Serve the burgers on the toasted English muffins, smothered with the onions and mushrooms.