One-Pot Spaghetti With Meat Sauce
Lisa1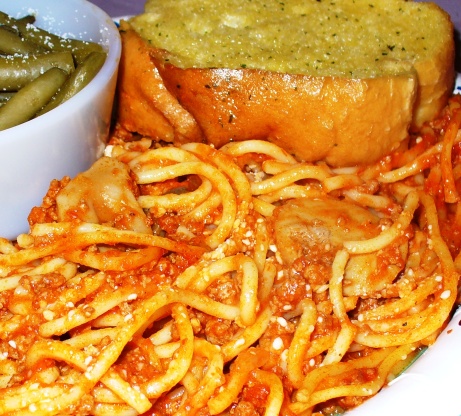 Quick and easy. Green pepper, onion and red pepper flakes are optional. I usually skip the bell pepper and onion and add a 7 oz can of drained mushroom pieces instead.

I just made this for dinner tonight and wow! I never thought a recipe so simple could be so delicious! I made just a few changes because of what I had on hand. Instead of turkey I used ground chuck. I omitted the onion and bell pepper which I would've loved to include but I didn't have any! I also omitted the red pepper flakes because I don't like them. Everything else I did according to the recipe. I did have to cook mine a bit longer because I like tender pasta and this one yielded more of an al dente. So that being said, it was still fantastic! Just proves that this recipe can be very versatile. You can add and omit as you please :) I think I will make spaghetti like this every time!
Brown meat with garlic, green pepper and onion. Do not drain.
Stir in water, spaghetti sauce and hot pepper flakes.
Bring to a boil.
Stir in spaghetti.
Boil 15 min., stirring occasionally.
Serve with Parmesan cheese.