Annacia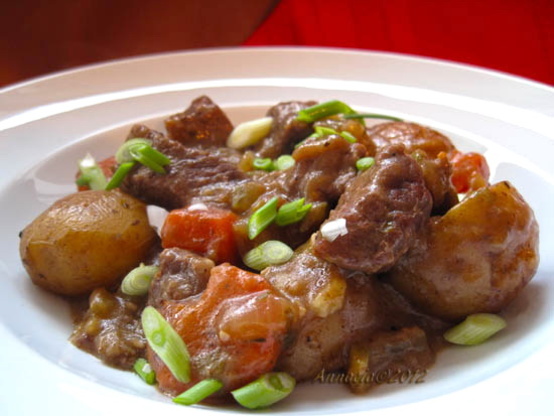 From Huey Hewitson. I have made some changes to suit us which is to omit 2 celery stalks diced and I cut the onion in chunky wedges and have added potatoes, have made potatoes and celery optional,

Another 5 stars from me. This is delicious and oh so easy. As promised in the title you just chuck everything in a pot and shove it into the oven. It came out with tender beef and well cooked veggies. I didn't have any parsley so topped the bowl with a small green onion. DH and I both loved it and it will be making more appearances at this house.
Preheat oven to 180C fan forced (200C normal).
Whisk the soy, worcestershire, flour, seasonings, bay leaves and thyme sprigs in a casserole dish (or heavy bottomed pot that can go into the oven).
Briefly cook over a medium heat until the flour has dissolved.
Add the cubed beef, garlic, carrot, (potatoes and celery if using), onion, red wine and beef stock.
Stir with a wooden spoon, cover and cook in the oven for about 1 1/2 hours until the beef is tender, stirring a couple of time.
Taste the sauce for seasoning and adjust if required.
If not using the potatoes serve with mashed potatoe or rice.