Prep 15 mins
Cook 45 mins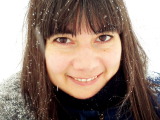 I used to be all about quick and easy cuisine, but since becoming a stay-at-home mom, I've branched out a little, now that I have more time. However, this recipe still gets made pretty often. The original recipe says to simmer all together in a large skillet for 45-50 minutes, but I prefer to bake it rather.
2 cups cooked ham, cubed
4 medium potatoes, peeled and sliced
1⁄2 teaspoon salt
1⁄4 teaspoon pepper
2 cups frozen cut green beans
1 medium onion, thinly sliced
1 (10 3/4 ounce) can condensed cream of mushroom soup, undiluted
1⁄2 cup water
Directions
Spray a 3 quart casserole dish with cooking spray.
Layer ham and potatoes in dish; sprinkle with salt and pepper.
Top with beans and onion.
Combine soup and water; pour over all.
Bake at 350F for 45-50 minutes.
Most Helpful
what a wonderful recipe..so easy. I did not use the salt or pepper desided if my brother or I wanted it we could add it. I diced up the ham and potatoes and onion and it worked out really well. Thank You for a recipe that I had everything on hand. It tasted as good as having everything on hand..GREAT..Thank You..Hugs
This was an awesome way to use up my leftover ham. We all loved it.

This has been a favorite of mine ever since I saw it in Taste of Home magazine. The original recipe called for 1 fully cooked ham slice (1 to 1-1/2 lbs) and then layer the potatoes, onion and green beans on top and pour the soup mixture over it. This recipe also works great in a crockpot or using the slow cooker feature on your stove. It is an easy Sunday dinner. Put in oven or crockpot before church and dinner is waiting when you get home. I highly recommend this recipe.