One-Pot Chicken & Penne Parmesan
J-Lynn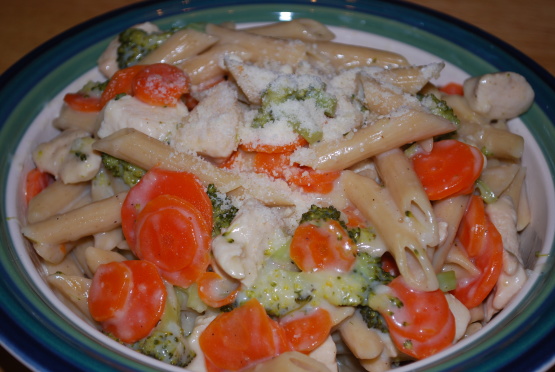 A quick, tasty one-pot recipe from the back of a bag of pasta.

This recipe turned out good. I used a bag of frozen cauliflower, broc., carrots, zuchinni, and summer squash instead. Instead of mixing the cream soup with milk and cheese, I put it in the pan with all the ingredients and mixed it in. It turned out very well. My husband likes cheese, so we topped it with more cheese.
Melt the butter in 5-quart saucepan over medium heat, add the chicken, and cook until it is no longer pink.
Add the broth and heat to boiling, then add the pasta, vegetables and pepper. Stir to cover the pasta. Allow to boil, then reduce the heat.
Cover the pan and simmer for 13 minutes (or until the pasta is tender), stirring every other minute.
While the pasta is cooking, mix together the cream of chicken soup, the milk, and 1/2 cup of the cheese in a medium bowl.
When the pasta is cooked, stir the soup mixture into the pot. Heat just to a boil, then sprinkle with the remaining parmesan and serve.