One-Pot Chicken Broccoli in White Wine Sauce
BecR2400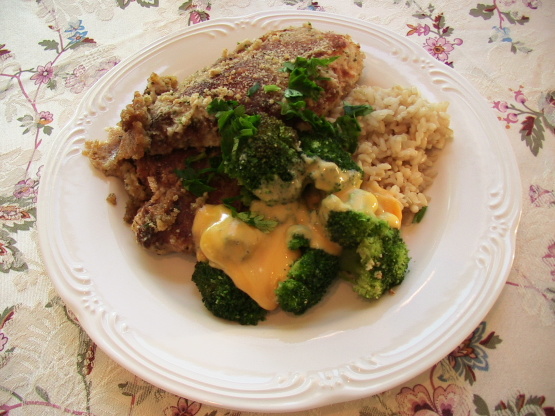 A quick, easy and delicious one-pan chicken and broccoli dish that I like to serve over a bed of brown rice or mashed potatoes and sprinkled with fresh snipped parsley. Wonderful! I've been making this for my family and friends for over thirty years, now. Hope you enjoy as much as we do! P.S. For an extra yummy indulgence, drizzle my Easy Cheese Sauce Velveeta Cheese Sauce in the Microwave over the broccoli. Yum :-)

Top Review by GaylaV
We liked this a lot. The only thing I may change is to cook the broccoli seperately (which I guess ruins the one pan idea!). It was fine in the casserole but the broccoli didn't reheat that well for the second day. I used chicken thighs, boneless and skinless and lots of mushrooms. I can see this one in our future. Thanks for sharing your recipe.
Wash chicken (no need to pat dry), and dip in breadcrumbs to coat both sides. Reserve leftover breadcrumbs.
Heat olive oil in a large skillet over medium-high heat. Add the butter, stir to combine.
Brown chicken over medium-high heat, about 4-5 minutes per side. Add leftover breadcrumbs, pepper, mushrooms if using, lemon juice or zest, wine, and most of the parsley (reserve a little to sprinkle on the finished dish).
Reduce heat to low and add frozen broccoli florets.
Cover and continue cooking another 10-12 minutes or until broccoli is done to your liking.
Sprinkle finished dish with the reserved parsley, and serve with white wine sauce and fresh lemon wedges.
Great with a side of rice pilaf or creamy mashed potatoes--for an extra yummy indulgence, drizzle my Easy Cheese Sauce over the broccoli. Enjoy!