PaulaG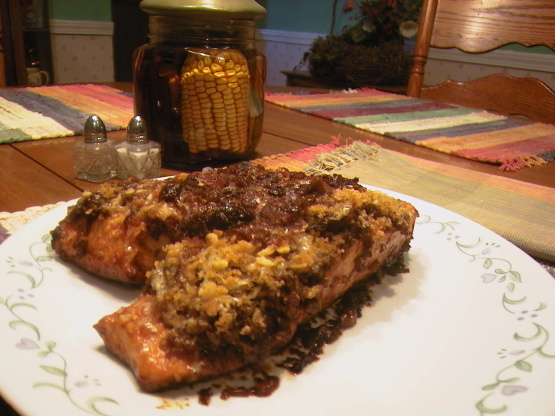 Modified from someplace on the internet....sorry I can't give proper credit. It's delicious!

Top Review by cyaos
I'll be honest - I was rather skeptical trying this but am I ever glad that I tried it! We eat a lot of salmon in our house and this is definitely a top-fiver. After reading previous reviews I cut down the olive oil by a tablespoon. I also used a red onion in place of the yellow onion and used Breton crackers in place of the Ritz. This had a unique taste and it something that we can have for ourselves or serve for guests. In any case, it will definitely be made again. Thanks for posting!
1⁄2 medium onion, chopped fine (prefer Texas 1015 or other sweet or yellow onion)

5

tablespoons balsamic vinegar

4

tablespoons olive oil

6

Ritz crackers, finely crushed
1⁄4 cup grated parmesan cheese (or a little less)
cajun seasoning or creole seasoning
Place oil, vinegar and onion in large skillet, sauteeing until onion is transparent.
Push the onions to the sides of the skillet, and place the salmon filets in- skin side down.
Spoon the onion sauce over the filets and cook over medium-low heat, covered, about 10 minutes.
In a small bowl, mix the cracker crumbs and Parmesan cheese, adding garlic powder and cajun seasoning to taste.
You can also add a couple of drops of olive oil to moisten, if desired.
Top the salmon with the crumb mix, and spoon any sauce from the skillet over the tops of the crumbed filets.
Cook about 5-10 more minutes, or until fish flakes easily.