One Muffin Recipe…7 Different Ways
Pixie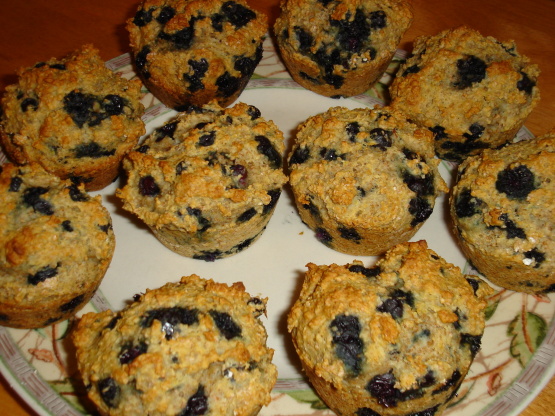 South Beach Friendly Muffin Recipe (Phase 2)

Sorry for the low rating but I had problems with this recipe. I too made the cinnamon/nut version and as mentioned in LUVMY2BOYs review there isn't enough liquid to incorporate the ingredients. I added an additional 3 Tbsp milk but still it wasn't mixing in. So, I added an egg and then it was right. The taste was good so I will just tinker with it a bit as it is South Beach friendly. Thank you.
Preheat the oven to 350 degrees.
Combine the flour, sugar, baking powder, and baking soda in a mixing bowl and stir together.
Make a well in the center of the flour mixture and pour in the remaining ingredients. Stir together until well blended, but don't over beat. The batter should be medium-thick. If it seems too stiff or dry, add a small amount of additional milk.
Stir in the additional ingredient or ingredients of your choice, then divide the batter among 12 oiled or foil-lined muffin tins.
Bake for 20 minutes, or until the tops of the muffins are golden and a toothpick inserted into the center of one comes out clean. Let cool until just warm to touch, then transfer muffins to a plate. I would store these in the refrigerator so they don't get moldy from the moist fruit.