One Minute Flax Muffin - Low Carb
Dimpi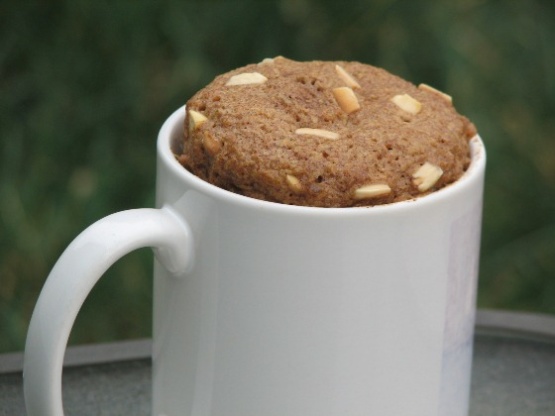 Got this recipe from a message board for low carb'ers and wanted it here for my reference. Sadly, I don't know who the originator of this recipe is. This is quick easy, healthy, very low carb and high fiber. Works great as a sweet muffin as well as savory muffin (just omit the sweetener - goes well with soups). Original called for one packet of splenda as a sweetener. I only use stevia. Add in options; fruits, nuts, flavored sweeteners/syrups, cheese, bits of ham, vegetables or spices ... get creative and enjoy!

WOW! Now I can have a muffin in any flavor I want in just a few minutes. No big batch to tempt me. This recipe seems very versatile. This is a cross between a muffin and a bowl of healthy cereal. I melted l teaspoon of coconut oil in the cup for 30 seconds in the microwave, 10 seconds at a time on low until melted. Then I added the flax seed meal, the baking powder, 1 package of Sweetleaf Stevia sweetener, 1/2 teaspoon cinnamon, l egg, 2 dashes of dried orange peel, and 2 teaspoons of frozen blueberries. Stir well and cook as directed. Next time I will add a few chopped walnuts and raisins. Maybe some chopped apples or strawberries. YUM. Thank you EasternCook. UPDATE = This is my new favorite recipe. I just added 2 cut up dried apricots to the cup and mixed it up, and it was wonderful. Next time I will try to use egg replacer or 2 egg whites for the egg. UPDATE #2 I have found that stirring all the dry ingredients first works out better because otherwise the baking powder has a tendency to clump. Stir the dry ingredients well, then add the egg and oil (even the coconut oil mixes in pretty well this way). Stir again. Add fruit and cook. I have used raisins with good success, but don't like nuts in this. My family says this is prison food, but I love it, and it fills me up!
Mix all ingredients in a coffee mug.
Micorowave for one minute on high.
If using frozen berries, microwave for 1:30 on high.
Smooth on some butter and enjoy!
It will be moist at first, but as the muffin cools it goes away.