One Dish Chicken and Bows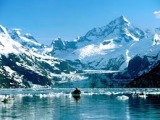 I love this meal for it's ease and down home goodness. You can make this one dish meal in less than 30 minutes. It's pretty too! You could substitute chopped carrots for the red pepper if you'd prefer. It reminds me of chicken pot pie without the 'pie'. Comfort! It makes A LOT so you can serve half of it and freeze the other half for a quick dinner some other night. From Simple & Delicious courtesy of Danette Forbes. *NOTE: this recipe does not include many spices, etc.. It is meant to be a comfort food type of recipe. If you enjoy spice, go ahead and throw some in!! This recipe is also versatile in terms of what veggies you like. Have fun with it. :)
Directions
Cook the pasta according to the pkg. directions.
Meanwhile, in a large skillet or dutch oven, cook the chicken and red pepper (or carrots) in melted butter over medium heat for about 6 minutes or until chicken juices run clear.
Stir in the soup, peas, milk, garlic powder, salt and pepper. Bring to a boil.
Reduce the heat and simmer, uncovered, for about 2 minutes.
Stir in parmesan cheese.
Drain pasta and add to the chicken mixture, tossing to coat.
Serve!
If freezing: Cool remaining mixture and transfer to a freezer container. Cover and freeze for up to 3 months.
To use frozen casserole: Thaw in the fridge overnight. Transfer to an ungreased, shallow 3 quart microwave-safe dish. Cover and microwave on high for 8-10 minutes or until heated through, stirring once.
Most Helpful
This is okay. It's quick to put together, and makes a lot, but the trade off is that it's a little bland. I think I will try it again, and put some additional Italian type spices in, and a little bit of cayenne. Also, I think it would be better with shredded chicken rather than chunks. This is a good base to start with.
This was very tasty and soooo easy! Thank you for the great recipe. We do like things a bit spicier, but were able to doctor it up to our taste. Next time we thought we might try ham and maybe some mushrooms.
This is a great and easy recipe! I was not in the mood to cook dinner tonight but needed to and this was the perfect recipe to do so; was ready to eat in 30 minutes. DH said this is a perfect recipe for him, chicken and noodles, and would be something he would order at a restaurant. This had a lot of flavor with few ingredients. Will make it again! Made for Best of 2012 Cookbook Tag.