One Dish Chicken and Bows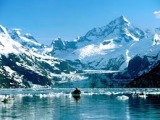 I love this meal for it's ease and down home goodness. You can make this one dish meal in less than 30 minutes. It's pretty too! You could substitute chopped carrots for the red pepper if you'd prefer. It reminds me of chicken pot pie without the 'pie'. Comfort! It makes A LOT so you can serve half of it and freeze the other half for a quick dinner some other night. From Simple & Delicious courtesy of Danette Forbes. *NOTE: this recipe does not include many spices, etc.. It is meant to be a comfort food type of recipe. If you enjoy spice, go ahead and throw some in!! This recipe is also versatile in terms of what veggies you like. Have fun with it. :)
Directions
Cook the pasta according to the pkg. directions.
Meanwhile, in a large skillet or dutch oven, cook the chicken and red pepper (or carrots) in melted butter over medium heat for about 6 minutes or until chicken juices run clear.
Stir in the soup, peas, milk, garlic powder, salt and pepper. Bring to a boil.
Reduce the heat and simmer, uncovered, for about 2 minutes.
Stir in parmesan cheese.
Drain pasta and add to the chicken mixture, tossing to coat.
Serve!
If freezing: Cool remaining mixture and transfer to a freezer container. Cover and freeze for up to 3 months.
To use frozen casserole: Thaw in the fridge overnight. Transfer to an ungreased, shallow 3 quart microwave-safe dish. Cover and microwave on high for 8-10 minutes or until heated through, stirring once.
Reviews
Most Helpful
Extremely easy, quick and delicious. I halved the recipe very successfully. Bought bowties especially for this dish and discovered I really enjoy this type of pasta :) Liked the red pepper in this, both for presentation and taste, and added some sliced mushrooms. A real keeper, thank you, LifeIsGood! Made for PRMR tag game.

This is okay. It's quick to put together, and makes a lot, but the trade off is that it's a little bland. I think I will try it again, and put some additional Italian type spices in, and a little bit of cayenne. Also, I think it would be better with shredded chicken rather than chunks. This is a good base to start with.
December 13, 2013: I am so very happy to have tried this recipe! I will start by saying that I cut the recipe in half, due to the fact I was limited on the ingredients, and I was only cooking for 4 people. We had just enough. The only ingredient that I switched up was the pasta. I went to the cupboard, only to find that I didn't have "bow-tie" pasta. I grab the next 'cutest' pasta I had, which was "shells". It actually worked out well, and some of the peas managed to find their way into the crevices of the shells! :) The sweet red bell peppers along side the bright green peas made this such a pretty dish... I'm thinking "CHRISTMAS"! I loved that this was so quick, easy and inexpensive. I would like to add... I volunteer to cook a couple times a month (for up to 50+ people, from my own kitchen and from my own pocket) and take it to the local county "Women & Children's" shelter, and also for the homeless men that spend 1 night per month at our local church. This is a PERFECT addition to add to my rotation of meals to make in bulk (and I plan to make this for both shelters' Christmas parties next week, but I will definitely get the "bow-ties" for that)! Thank you soooo much. As for the recipe, the only thing I may possibly change with this recipe (besides multiplying it) is to tweak the seasoning to please adults and children alike and maybe add more pasta & sauce to stretch it a bit further. So yummy! Thanks again for sharing. (Made for PRMR)<br/><br/>December 19, 2013 UPDATE: Last night, hubby & I were honored, once again this year, to dress as Santa & Mrs. Claus...hand out donated gifts... and feed everyone!... What fun! I made this dish for the local Battered Women &Childrens shelter (as a side dish to their turkey meal). But this time I used the bow-tie pasta and subbed chopped pimento (without sauteing), rather than regular red bell pepper. The kids enjoyed it and they re-named it "Christmas Bows". Thanks again, LIG. Happy holidays to you and yours!