One-Bowl Devil's Food Cake
xamandax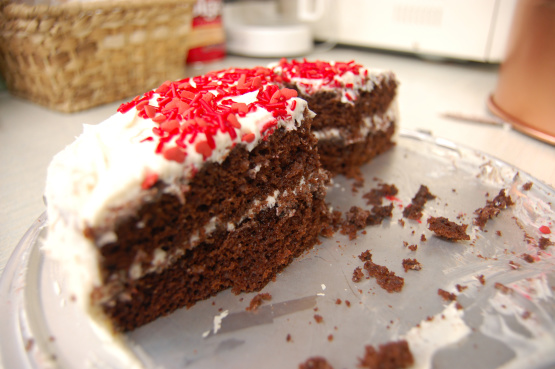 The beauty of this recipe is that the ingredients are mixed in one step. It is a no-fail recipe that is simple and delicious.

This turned out fantastic! I followed recipe exactly but cooked in a 9 inch springform pan as my husband wanted a single-layer cake for his birthday. Cooking time adjusted, it was done around 35-40 minutes. So delicious and easy! Thank you!
Heat oven to 350 degrees.
Grease and flour 2 round cake pans.
In large mixing bowl, combine all ingredients and beat at low speed until moistened; beat for 3 minutes at medium speed.
Pour into cake pans and bake for 25 to 30 minutes or until toothpick comes out clean.
Cool on wire racks for 5 minutes; remove from pans and cool.
Frost with your favorite chocolate frosting.
This recipe can also be baked in a 9x13-inch pan or 18 cupcakes with baking time adjustments.