One "big" Chocolate Chip Cookie
kmergirl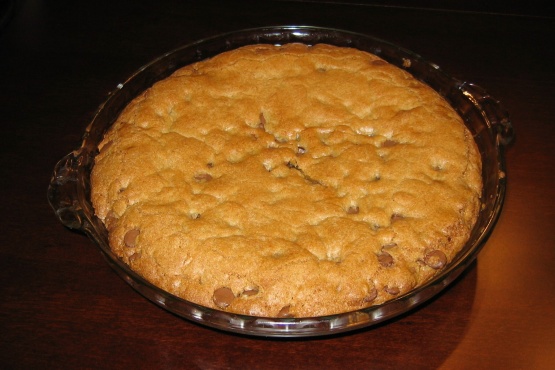 This cookie is one super-thick HUGE chocolate chip cookie. When you want a chocolate chip cookie without all the fuss. Or wrap in cellophane add a pretty bow and give it as a gift.

Simple and delicious big cookie. I didn't alter the recipe, except used white chocolate chips. I actually cut this down to an 8inch circle and used it as the 'face' of Thomas for my son's birthday cake. It worked well with the white cake and buttercream frosting.
Combine first 4 ingredients in a bowl. Add melted butter,eggs, and vanilla; Stir well. Stir in chocolate chips. Spoon into a greased 9-inch pie plate. Bake at 350 degree's 35-40 minutes or until knife inserted in center comes out clean. Cool cut into pie sized wedges and enjoy!