Jubes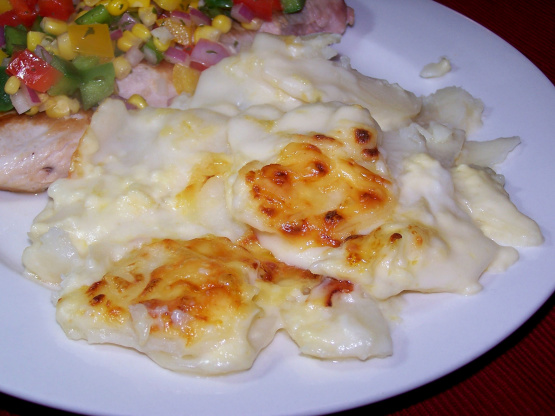 I call this potato bake once-a-year because that is how often I am allowed to make it. I banned myself not so long ago because I kept making it and hubby and I would eat the whole thing in one sitting and even though it originally came from a 'low-fat' recipe book, eating 8 serves between us everyday is not good for my waist line. So in summary- This is THE BEST potato bake EVER! I make it for family get togethers, Christmas, birthdays, BBQ's because it is SO quick and SO easy.
1

kg potato (peeled)
cooking spray

1

cup grated reduced-fat tasty cheese

4

tablespoons grated parmesan cheese
1 1⁄2 cups skim milk

2

(30 g) packets cheese sauce (I use 30g Continental 4 cheese sauce mix or whatever you can find)
Preheat oven to 210°C.
Peel potatoes and slice thinly.
Place 1/2 potato slices in a baking dish that has been coated in cooking spray.
Sprinkle 1/2 the grated cheese and 1/2 the parmesan cheese over the potatoes.
Layer the remaining potatoes on this.
In a saucepan bring milk to gentle boil and add the sauce sachets and whisk together. Pour over potato.
Sprinkle remaining cheeses over the dish.
Cover with foil (spray foil with cooking spray to stop cheese sticking).
Bake for 1 hour, remove foil and cook for a further 10-15 minutes or until potato is cooked.
If I was going to a party etc where there was an oven available I would cook for 45 minutes at home, leave the foil on whil transporting, and when at the destination I would cook for a further 15 minutes to heat up and soften potatoes, then remove the foil and brown the cheese and serve.