On Your Way to Five a Day Stir-Fry
loof751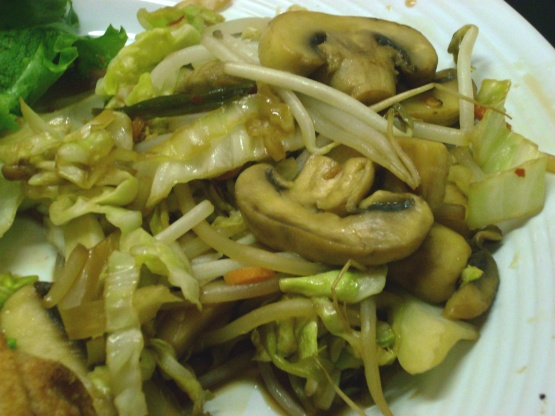 The title refers to the fact that this dish is packed full of healthy vegetables. It's low fat (especially if you use minced turkey instead of pork) and the quick cooking means the vegetables retain a lot of their nutrients. Vegetarians can omit the meat altogether and include other vegetables and/or tofu or Quorn and substitute tamari soy sauce and mushroom ketchup for the fish and oyster sauces - or buy branded vegetarian versions from health and specialist shops. NB: If doubling up quantities don't automatically double up the liquids. I once made a triple batch and used 9 Tbsp each of lime juice and fish sauce and 6 Tbsp of oyster sauce - it was too strong for some of the family so since then if I'm making large quantities I add half the stated amount again for each extra quantity and then taste to see if I have got it right. The basic principle is keep to the ratio of 3:3:2

What a terrific stir-fry dish! I made the vegetarian version so I used extra mushrooms and we really enjoyed it. The red chile and the lime juice brought a wonderful new dimension to this dish. Healthy and flavorful - thanks for posting this recipe! Made for Fall PAC 2008
Place oil in a wok or large frying pan over a high heat. Add minced meat and stir fry until cooked (about five minutes.) It's important to keep the meat moving in the pan so that it cooks evenly and doesn't "clump" together or burn.
Turn the heat down to medium and add the garlic, ginger and chilli (if using). Stir-fry one minute.
Add carrot, mushrooms and spring onions. As you stir-fry, add the lime juice, fish sauce, and oyster sauce. Stir-fry about 1 minute.
Add the savoy cabbage and stir fry for one to two minutes (cabbage should be slightly wilted but still crunchy).
Add the bean sprouts and stir-fry briefly (to mix).
Taste and add a little soy sauce if you think it needs more salt - remember that fish sauce and oyster sauce are both heavily salted condiments!
Serve with egg or rice noodles.