Omelette With Mushrooms for One
Derf2440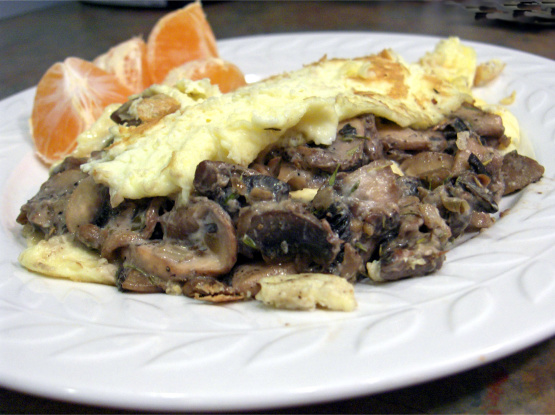 This is a nice breakfast for any day of the week. Or serve for dinner with homefries, roasted tomatoes and toast.

Delicious mushroom omelette filling!! While I didn't have mush luck with your method of plating the omelette, the flavour was wonderful. I didn't have any mascarpone or heavy cream in so I used light cream cheese with onion and chives, it worked perfectly! The first one did not turn out well at all (mine !), quite a disaster, so I used my own method for the second one and it looked much better. Added the mushroom mix, while omelette was still a little undercooked, and flipped the other side over, put a lid on for about 2 seconds and removed it to the plate. I found it just a little too salty for me (probably my fault) and will leave the salt out next time. All of the above didn't really matter, the flavour was sooo delicious the presentation was secondary. Thanks for posting, I will be making it again (with my removal method haha!!)
Crack the eggs into a bowl, add 1 teaspoon of cold water, and beat with a fork until you can't see white from yellow.
Set aside.
In a small frying pan, over medium-high heat, cook the shallots in half the butter until soft, add the mushrooms all at once and cook, stirring, until the mushrooms are half wilted.
Add the herbs and mascarpone with salt and pepper and cook until the cream has melted.
Remove from the heat.
In a medium, non-stick frying pan, heat the remaining butter, over medium-high heat.
Pour in the eggs, and with a rubber spatula draw the egg mixture across the pan in one direction and then in the other.
You should have a mound of fluffy eggs in the middle of the pan.
Let the remaining egg mixture sit and cook for half a minute, then, with the rubber spatula, lift the edges of the omelette around so that the remaining liquid slides underneath.
When all the eggs are lightly cooked, remove the pan from the heat.
With your wrist facing the ceiling, slide half the omelette onto a heated plate, cover this with the mushroom mixture, then, fold over the other half of the omelette.