Omelet With Wild Aspargus
awalde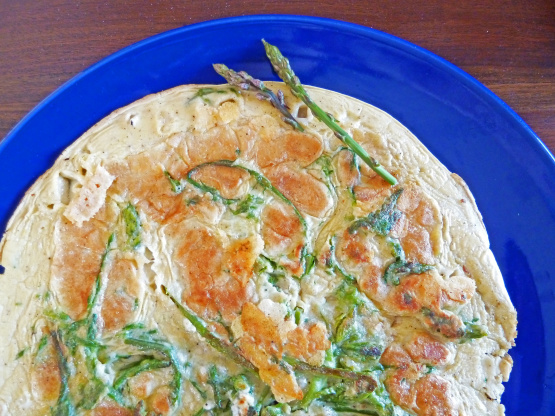 Try this recipe if can get or find some wild asparagus available. Done with wild Creatan asparagus.

Top Review by ImPat
I love asparagus and just lightly steamed it in the microwave 900watt for 2 1/2 minutes and then proceded with recipe though I didn't flip it and I used a sharp cheddar with a little parmesan and made just the one omelet and enjoyed a wonderful breakfast, thank you awalde, made for Make My Recipe - Edition 16.
Boil the asparagus is little water until tender (should take about 15 minutes) and strain.
Beat eggs add water and flour and make a batter.
Combine with cheese, asparagus, salt and pepper.
Heat olive oil in a pan.
Pour the mixture in the pan trying to arrange the asparagus nicely (if you prefer you can make smaller omelets for single serving; as I did).
When the bottom side of the omelet is golden brown turn it over and cook only shortly.