Omelet With Lavender and Chèvre
Annacia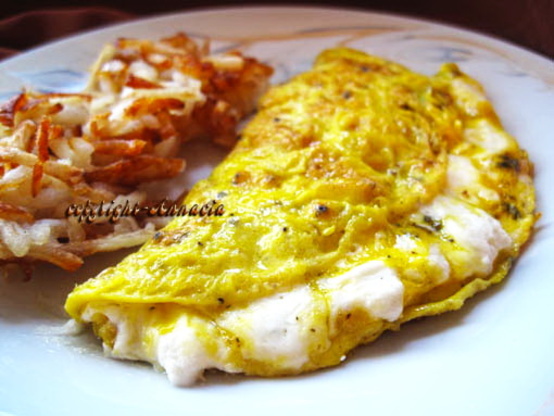 Something I put together recently but the idea for using lavender in an omelet has been swimming through my brain for a year or two. To residents of the Pacific Northwest: I tried two different varieties of chèvre for this recipe: River's Edge 'Roasted Hazelnut and Frangelico' and 'Up in Smoke' ("smoked fresh chèvre, wrapped in smoked maple leaves which are spritzed with bourbon for extra smoky flavor". I don't make this stuff up.) Note-this is the recipe I use to prepare the omelet: The Omelet by Alton Brown. I debated on adding shallots to the omelet...

This is lovely and a marvelous change up from the every day by simply adding a bit of lavender and Chevre (which I love). It takes no longer than any other omelet it's special and would be great for Mothers Day breakfast for instance. The recipe says to top the omelet with the cheese but I really like any cheese used to be in the center where it melts so nicely. When I made this the directions read to do the first 5 steps and continue with... There were no first 5 steps given, lol, so I just made this as I normally make an omelet. Even if I missed something it was yummy!
3

eggs, unshelled (placed in a bowl of warm water for 5 minutes)
salt and black pepper, to taste
1 -1 1⁄2 ounce chevre cheese, crumbled

1

teaspoon fresh lavender, minced (ok to use 1/2 teaspoon dried lavender-crush between your fingers)

Garnish

one sprig fresh lavender
fresh herb, your choice
Prepare omelet recipe up to the beginning of Step #5 and proceed as follows:.
Distribute the chèvre cheese on top of the omelet.
Add a sprinkle of cracked black pepper and garnish with a sprig of lavender.
If desired, garnish the top of the omelet with a light sprinkle of fresh herbs of choice: chives, French tarragon, Italian parsley, etc.