From: Barefoot Contessa at Home
Directions
Preheat the oven to 350 degrees F.
Cut the bacon crosswise in 1-inch slices. Cook the bacon in an 8-inch ovenproof saute pan over medium-low heat for 5 to 7 minutes, stirring occasionally, until browned. Drain the bacon on paper towels and discard the fat from the pan. Add the butter to the pan, and then add the potato and yellow onion. Cook over medium-low heat for about 10 minutes, tossing occasionally, until the onion starts to brown and the potato is tender but firm. Add the jalapeno pepper and cook for 30 seconds.
Meanwhile, in a medium bowl, beat the eggs, milk, salt, and pepper together with a fork. Stir in the scallions and diced Cheddar. When the potato is cooked, add the bacon to the pan and pour over the egg mixture. Place the pan in the oven for 15 to 20 minutes, until the omelet puffs and the eggs are almost cooked in the center. Sprinkle with a handful of grated Cheddar and bake for another minute. Serve hot directly from the pan.
Reviews
Most Helpful
This was really delicious. It was light and fluffy. I did steam the potatoes first so they would cook faster and I sliced them pretty thinly. This made a hearty frittata that I even ate cold later in the day! Made for 1-2-3 Hit Wonders Tag Game.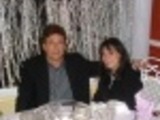 "Yes!" This made a satisfying dinner with a tossed salad on the side. Could not find a Yukon Gold potato, so used a Russet potato instead, ending up with twice the amount of potatoes needed, so I doubled the chopped onion. After the browning of the potato-onion mixture was complete, I split half of the mixture to another saute pan before I continued on with the recipe. Oddly, this recipe produced a lot of bacon pieces, yet the bacon taste was subtle. We loved the green onion accent, and the very cheesy result. This was more a frittata than an omelet, and it was missing the usually healthy veggies, but this was an unqualified hit. Thank you for sharing this recipe, Brookelynne26! Made for Secret Ingredient Tag, QI=Cheese.